While Katelin is off for a midweek jaunt to "North Carolina", she asked me to guest post for her today. Me being Jamie from
Oh! How Lovely!
Of course, I jumped at the chance to guest post when I got her little email because number one, I love Miss Katelin! Number two, I thought I'd tell you the
real
reason she is gone.
Now as you noticed I put North Carolina in quotes up there, that is because I don't think Katelin is really in North Carolina with this "Jen" character. I'm choosing to believe that with this whole NKOTB reunion going on, she set up a secret rendezvous with Jordan Knight, because we all know
how close they are
.
As awesome as it is that Katelin gets to mingle with the New Kids, I can't help but be a little jealous that I never met anyone so dreamy. (Mr. Timberlake, call me!) I know Nicole talked of all her celeb encounters when she guest blogged last time Katelin was gone, but I think I got everyone beat with my celebrity meeting. Seriously.
We all know how fabulous and amazing I am, so of course, you would think I regularly rub elbows with the stars. I hate to break to you, but Chicago isn't really crawling with them. Or never when I am around, I guess. Well except that I once lived in the same building as Robocop. I never saw him, but I totally lived in the same place. That is besides the point though!
The only famous person I have ever met is….
drumroll please!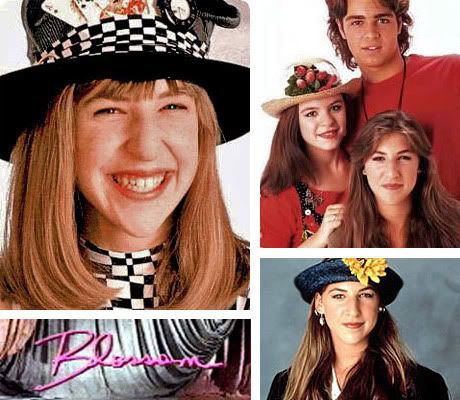 Yeah, that's right. I met Blossom. At Marshall Fields. My mom surprised me by taking me. This was probably the coolest thing even in the history of the world to 4th grade me. I probably even have a signed 8×10 lying around somewhere. I know you are so jealous right now. I would be if I were you.
I bet you are wondering what Blossom is up to now. Well, I'll tell you. Mayim Bialik (she will always be Blossom to me though) recently got her PhD in Neuroscience from UCLA and is happily married with a 3 year old. She is heavily involved with Conservative Judiasm, so says Wickipedia.
And of course, Blossom is still killin' it with her awesome taste in fashion at 32.
Thanks to Katelin for letting me take over her little part of the internet for a day! I really can't believe I just wrote about a mini "Where Are They Now?" about Blossom. Anyway, should you choose to see the other ridiculous things I come up with on a daily basis, I suggest you stop on by!
Over and out.