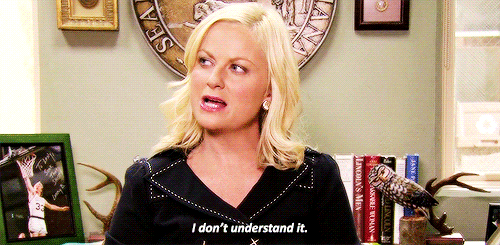 You guys. This week. Amiright?
I had so many blog posts in the drafts ready to hit publish last week and this week, but it all seemed a bit inconsequential. Nothing felt right to share.
And then Tuesday happened.
And I didn't really know what to say. Honestly, I still don't.
I don't think I've ever been so affected by an election or an outcome in my life. I was overwhelmed and frustrated and the tears didn't stop. I'm not sure I actually slept on Tuesday night and when Wednesday morning rolled around I wasn't feeling quite like myself. And I still don't.
Everything that's happened since the election campaigning started has been a weird combination of uplifting and disheartening. And Tuesday was the ultimate culmination of emotions.
I am finally starting to feel a little bit more like myself and a whole lot more determined to make the next couple of years truly count.
I don't feel like I have quite the right words yet, but Leslie Knope does. And they are exactly what I needed to hear.
I acknowledge that Donald Trump is the president. I understand, intellectually, that he won the election. But I do not accept that our country has descended into the hatred-swirled slop pile that he lives in. I reject out of hand the notion that we have thrown up our hands and succumbed to racism, xenophobia, misogyny, and crypto-fascism. I do not accept that. I reject that. I fight that. Today, and tomorrow, and every day until the next election, I reject and fight that story.
So let's fight that story together everyone. Breathe in. Breathe out. Work together. Let's do this.
happy friday!
Posted in
Me Things