Remember how I said how good I am at binge watching TV shows? I wasn't kidding.
Last month I watched season one of Outlander. In a week. I would joke to Matt that I didn't mind if he had to work late because I was headed to Scotland.
YOU GUYS. I CAN'T STOP THINKING ABOUT THIS SHOW.
For the past month, I've found myself reading every article I can without spoiling the next seasons. Although, admittedly I did read some spoilers. Also, it's based on a book series that has been around for over twenty years and has eight books in it already – things are going to get spoiled.
Anyways, I can't stop. Jamie and Claire have been on my mind nonstop. It's bizarre. I've also listened to the opening credit song on loop.
And then yesterday, my library came through. SEASON TWO IS IN MY HANDS AND I STARTED WATCHING IT. Matt had to work late, Riley went to bed without a problem and there was a glass (or two) of wine with my name on it – THE STARS ALIGNED FOR OUTLANDER.
It's starting to reach Twilight levels of crazy here, and I can't stop it and I can't even begin to explain it.
THIS SHOW IS GIVING ME FEELINGS.
SO MANY FEELINGS.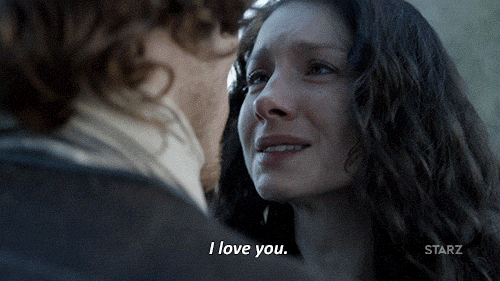 So, excuse me while I binge watch season two and then obsessively read about season three (coming next year, and it's on a channel I don't have).
OKAY, BYE OUTLANDER FOREVER TOO MANY FEELINGS.
Posted in
Hollywood Tales