You guys. Hollywood. There's so much going on, it's almost too much for one blog post. But I'll do what I can.
Starting out the week in cute we have Reese Witherspoon with her oh so gorgeous daughter Ava, holding on to little brother Tennessee. Seriously this family is too much, I love it  
Also bringing the uber cute we have little Harper Beckham, stealing the spotlight at mom's NYFW show. I mean she even made Anna Wintour smile somehow.

In other bebe news, Dawson is going to be a dad again!…Gwen Stefani is rumored to be pregnant again….if the Disney Princesses were on Instagram is the best thing ever…Wentworth Miller came out in defense of gay rights when asked to share a movie he wrote in Russia (seriously I'm more surprised that he writes movies more than I'm surprised about him being gay)…Kristen Chenoweth is the best person. And apparently pulls fans on stage to sing with her. And then magic happens….It's also magic when stars of The West Wing tweet each other…Dancing with the Stars revealed it's newest cast and somehow I'd heard of most of them. However, I'd say Elizabeth Berkeley (aka Jessie Spano on Saved by the Bell) had the best tweet ever…Professor Xavier (Patrick Stewart) got married and Magneto (Ian McKellan) officiated, nerd dreams really do come true…and Kerry Washington (my new idol) looked fabulous in her runway premiere while filming the season finale for Project Runway.
In some favoritness…
Charlie Hunnam as Christian Grey. SO MANY FEELINGS ABOUT THIS. Most of them being that he's going to be naked a lot (at least that's what I've heard since I've yet to read the books). In any case. Woo. Also, the fact that there's a petition going to recast the movie with Matt Bomer and Rory Gilmore is ridiculous (also Matt has already said "thanks, but no thanks". Seriously people just click here and you'll be convinced of Charlie's swoon levels. Also, his girlfriend is apparently very on board with him doing this role in case you were curious about that.

Josh and Diane. Forever and ever and ever. Can you two just have a fabulous wedding and then make super adorable cute kids already? K thanks?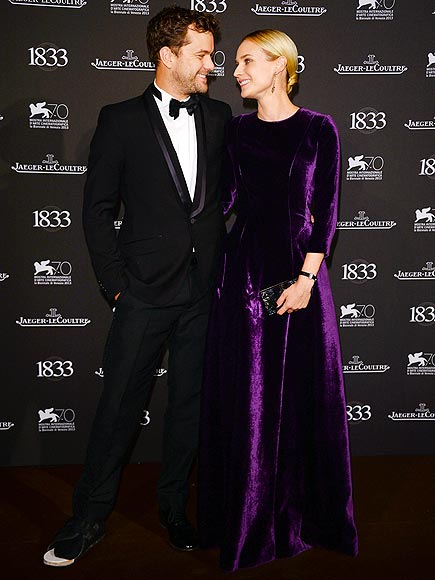 Jen and Matthew. Reunited on the big screen for a movie that looks much better than their last one. Also, I LOVE Jen's dress.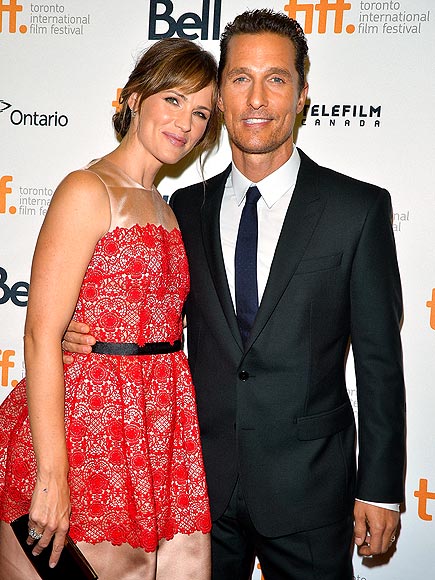 In some movie news…
DIVERGENT. So there's a trailer. And Kate Winslet looks badass. And Theo James is very smouldery. And Shailene is very Shailene. And I'm looking forward to this but I'm not overly excited yet. Let's work on that.
The Book Thief. I LOVED this book. LOVED it. And it's being made into a movie (of course it is) that's coming out later this year. And there's a trailer for it. And I'm on the fence. The book is narrated by Death and there is no hint of that in the trailer. To totally disregard that is like creating a whole new story. Hopefully future trailers will show a bit more.
In some TV news…
Sons of Anarchy. THE SEASON PREMIERE IS TONIGHT. I AM SO EXCITED. SO EXCITED THAT I WROTE A BLOG POST ABOUT IT. Also, but really. This show.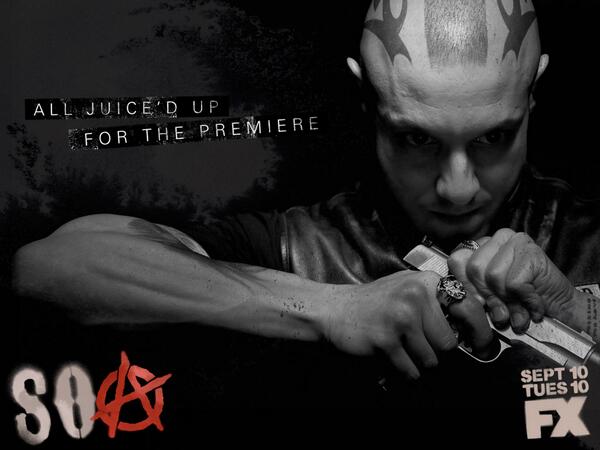 Scandal. Remember how I said I finished season two last week? Well, I did. And to say I'm hooked is an understatement. I've been catching up on Season 3 spoilers (Scott Foley is being bumped to a series regular!) and watching the season three teaser trailer and clips online. Yes, clips of the show I just watched. I have so many issues. But really the chemistry between Olivia and Fitz just gets to me. This scene in particular gives me a lot of FEELINGS.
Grey's Anatomy. Can someone explain to me how this show is going into it's TENTH season? Wowza. Sadly this will be the last season for Cristina Yang as Sandra Oh is officially leaving. Part of me wants the show to end because I just can't seem to quit it.
Downton Abbey. We have a trailer! Although not many words. And we still have to wait until January, blergh. But still, bring me the fancy! Also, seeing the cast in modern clothing is just so strange? But they are a good looking bunch.

How I Met Your Mother. We've got a little snippet of what this final season will bring and it's a whole lot of everything. Although it looks like too much Ted and Robin which I am not a fan of. However, I am a fan of their Entertainment Weekly spread.
Surviving Jack. Not sure that I'll actually watch this new show but it does have everyone's favorite SVU detective, Chris Meloni in a randomly comedic role.
 The Affair. Joshua Jackson's new show. That should tell you all you need to know. Which is that OF COURSE I'll be watching this.
Lastly in today's WTFness DMX apparently likes to go streaking. In hotels. And it's strange.
 happy tuesday!
Posted in
Hollywood Tales