A Hollywood post? On a Tuesday? It is possible! Hark!
Starting out this week in cuteness we have the always fashionable and tre adorable Suri Cruise.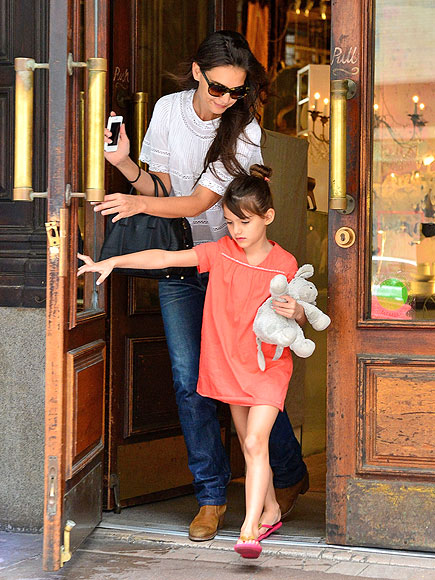 In other cuteness we have NPH's precious (and somewhat matching) family enjoying vacation. Seriously those kids are so cute and also, quite fashionable.  Suri agrees.

In other Hollywood news, Beyonce and Jay Z know how to ride in style from the Hamptons (like they'd be driving anything else)…Lea Michele made her first public appearance since Cory Monteith overdosed last month at the Teen Choice Awards. I don't know why I watched this video because it was impossible not to cry as she dedicated her award to him, goodness, emotional….After a pool accident with his oldest son, Usher was back in court with ex-wife to dispute custody rights and just eek, let's hope they keep it together for those boys…apparently Oprah isn't known everywhere. A store clerk in Switzerland refuses to show her a purse thinking she couldn't afford it, goodness…And Rachel McAdams looked all sorts of fabulous at her latest movie premiere in Munich, seriously – work it girl: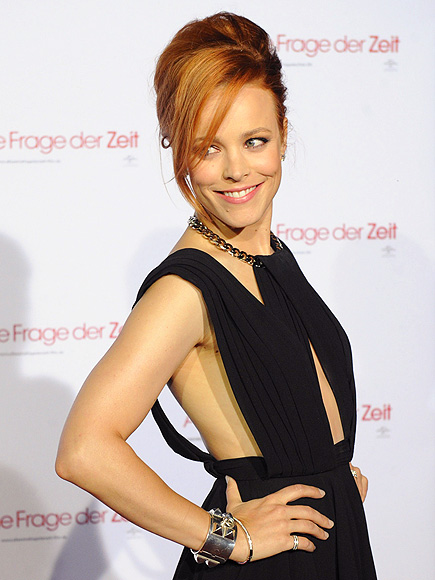 In some favoriteness…
So Matt Saracen, QB1 for the Dillon Panthers (real name Zach Guilford, actor on FNL) got hitched. And the wedding pictures are all here. And they're wonderful. And amazing. And he cried at the altar. And her dress is amazing. And Landry (Jessie Plemmons) who's his BFF on the show played guitar and all sorts of Friday Night Lights magic happened and I was happy.

Benedict Cumberbatch has a bit of a professional crush on Matt Damon. Someone told Matt Damon about this. And now hopefully there will be a picture of them together at the Emmy's having a laugh and toasting or something awesome like that.
Jennifer Lawrence (everyone's BFF) is Vogue's September cover girl. And she is working it. I just love the spread so far and her and bah, can we be friends already?

In music news…
If you haven't seen the new Mumford & Sons music video yet, please do. And laugh.
The Wizard of Ahhhs by Todrick Hall. Enjoy. A whole lot.
In movie news…
Gone Girl. I loved this book. And I'm already loving the movie casting. Ben Affleck and Rosamund Pike. Yes and YES. This movie has so much potential and I'm just so curious to see how it goes.
Saving Mr. Banks. Well doesn't this movie just look adorable? Tom Hanks as Walk Disney, Emma Thompson as the author of Mary Poppins? I'm pretty sure this has movie gold stamped right on it. And the movie poster is pretty dang wonderful too.
In TV news…
SONS OF ANARCHY. YOU GUYS. ONE MONTH TIL IT'S BACK! EEEEEEEEEEE! AND WE HAVE AN ACTUAL TRAILER FOR THE NEW SEASON (that I've watched no less than 10 times).
Also, Sesame Street made their own PG version of the show, Sons of Poetry and it's as adorable as you'd imagine.
Orange is the New Black. So I watched the whole season. And I'm a fan. The ending, sweet hell that ending. I won't spoil anything but I did not see that happening. Also I love how each episode gives a little back story to a different inmate, it's pretty fantastic that way. Also, so much nudity. I mean it is about prison but still, so much nudity.
Dexter. Oh Dex. This season is sort of eh. I don't really get what's happening or where it's going but I hope it picks up steam soon. Also, seeing Becky from FNL as Masuda's daughter has been hilarious, also weird. Also, apparently anyone and everyone in FNL will forever stay on that show, I apologize, ha.
Homeland. Eeeeee a trailer. Oh this looks good. And seriously Dana, I can already tell she's going to annoy me more than ever this season.
Sherlock. Oh you Brits and your excellent TV shows! I seriously hope PBS decides to air this new season in the US the same time it's airing in the UK, it's just so good! Also, we have a new villain.
Downton. New pictures from the new season! Eeeeee! Still can't believe we have to freaking wait til January for this one. Oh how I adore this show.

Breaking Bad. I don't watch this show. YET. I'm waiting for the series to be over and then I'll get started. So excuse me if I'm not tweeting like a crazy person about it, YET. Because it's probably inevitable with my track record.
Lastly in WTFness we have Justin Bieber. I swear the kid is constantly trying to get more ridiculous every damn day and he's thisclose to being kicked off my blog (probably not my playlists, but whatever). In his latest WTFness he serenaded his grandma, in the nude. Well with a guitar but that was it. I just, I don't even get it. Why? What is happening?
And that my friends, is a wrap for today.
happy tuesday!
Posted in
Hollywood Tales