It's Wednesday but it feels like Tuesday and there's a WHOLE LOT of celebrity news today. So just be warned, this post will be long and photo filled and probably involve a lot of CAPS LOCKED EMOTIONS as well. Here we go.
Starting out this week's bebe cuteness we have to start with the young royals. I mean how could I not?? Kate and William and their little squishy baby boy looking all adorable and family-like outside the hospital yesterday? I love it. Although seriously how were they in the hospital less than 24 hours after he was born?? That just seems like crazytown. In any case, preciousness.

In other cuteness we have my favorite royal family of Hollywood, the Garner-Afflecks. Seriously, they are the most adorable and down-to-earth and precious and ah. LOVE. Also those kids are getting big and my goodness is Samuel a little Violet mini-me.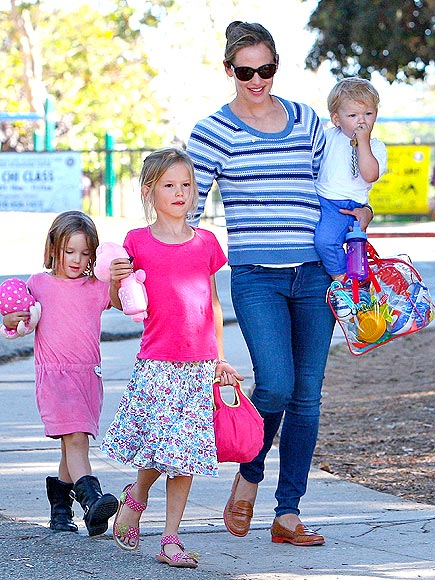 In other bebe news, Penelope Cruz and Javier Bardem welcomed a daughter on Tuesday as well as Jimmy Fallon and his wife, congrats!…Helen Mirren is not only an awesome woman but would have been an awesome mom based on this interview alone…a fan attacked Beyonce at a show and SHE KEPT SINGING, girl is a champ… The Rock and a puppy, you're welcome…SNL needs some more people of color, especially a black woman because Keenan Thompson dressing up as famous black women is just not doing it any more…Amanda Bynes is in a psych hold, so that happened…and Jessica Chastain looked lovely at a film festival over the weekend, seriously adore her:

In some favoriteness….
Rob Pattinson. Is doing things again. Like modeling in bath tubs.
The Gos. If you think about it he plays a lot of loners. And someone decided to give them Facebook, sort of. Anyways, it's funny. And Ryan, I'll be your friend, really.
In movie news….
CATCHING FIRE. THERE IS A NEW TRAILER! DID YOU WATCH!? DO YOU LOVE IT!? IS IT NOVEMBER YET!?!?!
DIVERGENT. I LOVE YA BOOKS TO MOVIES APPARENTLY AND CANNOT WAIT FOR THIS EITHER. ESPECIALLY BECAUSE KATE WINSLET IS IN IT AND I ADORE HER. FEELINGS ABOUT THIS MOVIE, I HAVE THEM. ALSO NEW PICTURES, ENJOY!

Pacific Rim. I saw it over the weekend. Charlie Hunnam gets shirtless a few times. The special effects are delightful. I enjoyed it. You should too. Did I mention Charlie is shirtless?
12 Years a Slave. This movie has Oscar written all over it. And awesomeness. And a great cast. And it's a true story so of course I'm going to read all about it. But really, check out this trailer.
X-Men:Days of Future Past. I really hope this movie is good. Like really good. I love all things X-Men and I have high hopes for this. I mean the new posters already have me excited.

In TV news…
Sherlock. YOU GUYS. This show. Basically reiterates my love for the Brits and their excellent TV shows. It also reaffirms that I love shows that have super smart guys that are also socially awkward and somewhat attractive. But really, Matt and I watched all 6 episodes of this show on Netflix and loved everyone of them. They're all witty and smart and I'm so excited to see where season 3 goes. Also, the guys did a great video for Comic-Con about the upcoming season and just, enjoy.
How I Met Your Mother. For some reason they were at Comic-Con (I still don't understand that) and they premiered this "preview" for next season and I seriously laughed so hard. Ted's kids are a bit upset that it's taken their dad eight long years to tell them one story, ha.
Downton Abbey. No news really, but there is this picture that makes my heart happy.

Sons of Anarchy. There's a new poster for this season. And there's a lot of angst. And the guys have been doing interviews at Comic-Con (no I don't understand why they're there either) and there's been pictures and just, I love this show a little too much.

Lastly in WTFness we have Rihanna's version of fashion. I mean. I don't even know. Is this a thing? An actual look? Because it looks weird and really uncomfortable. And I'm just not a fan. Goodness.
happy fake tuesday!
Posted in
Hollywood Tales