Oh hey Hollywood. We're already a day late. So let's get to it already.
Chris Hemsworth and his bebe daughter are just SO CUTE. I mean it's Thor, with a baby. It will never not be cute.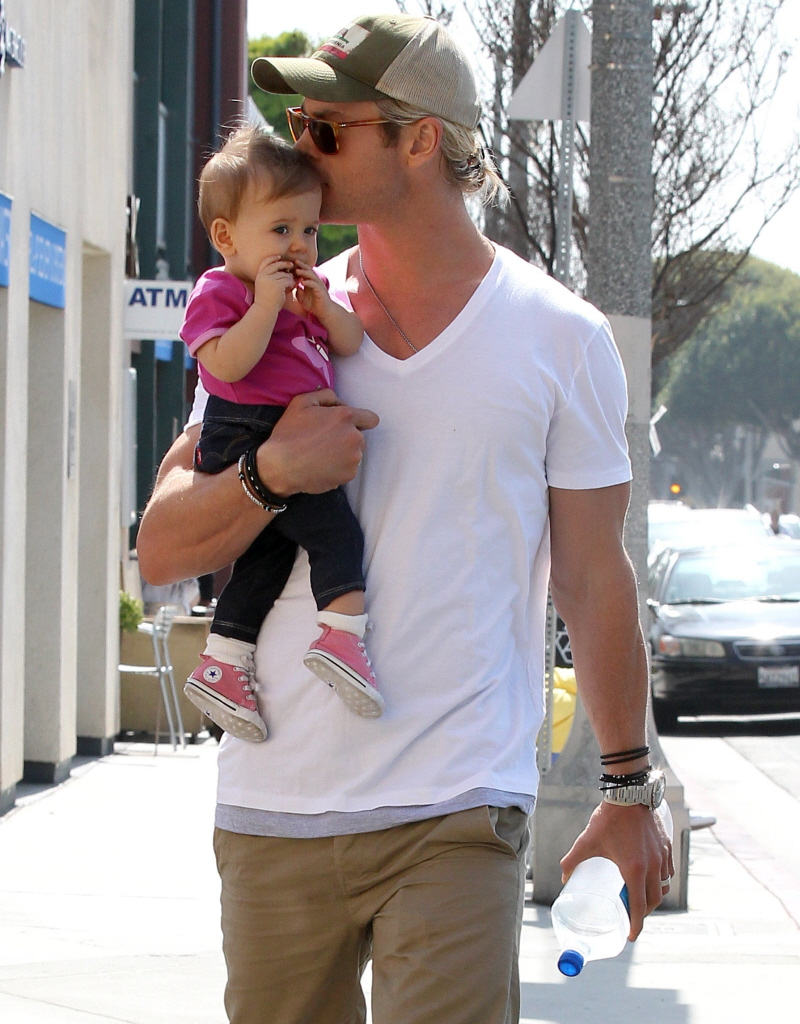 And then we have my favorite Jen Garner, with little Samuel is out trotting on his own. Seriously how is he one already? And how much does he look like big sis, Violet? Precious.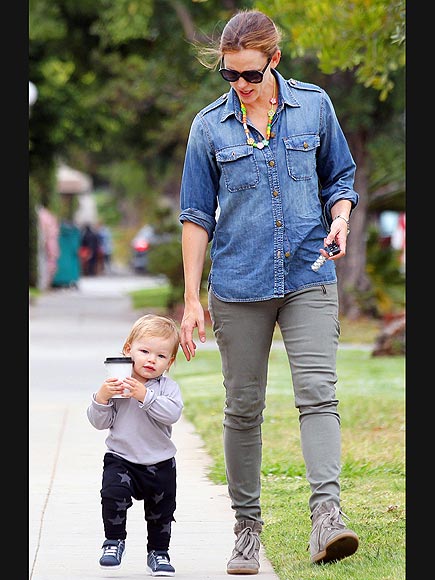 In other bebe news, Halle Berry is pregnant with her second child and already looks amazing, Blue Ivy is some sort of giant toddler and Suri's Burn Book is still the best place for all celebrity child news….Bradley Cooper lives at home with his mom and it's a lot sweeter sounding than it is…Hugh Jackman was accosted by a crazed woman stalker and just, eck, glad he's okay…Jon Hamm on Sesame Street is just so good, good…Who needs an 80s cheerleading outfit? Because they're sort of amazing…Kerri Washington wore an interesting number to the MTV Movie Awards and I can't decide if I love it or not. I mean I adore her and most of her fashion choices and I think I like this one, I think I like it a lot:
In some favoriteness…
Keanu. With stuffed animal pandas. And Jackie Chan. Do with that what you will.

Joshua Jackson and Diane Kruger are just the cutest couple and looks like they had a most fabulous time at Coachella. Seriously, can they be any cuter??

In Movie News…
CATCHING FIRE. THAT'S NO TEASER TRAILER, THAT IS A TRAILER. AND I CAN'T STOP SCREAMING ABOUT IT. BAH. THIS MOVIE. IS IT NOVEMBER YET!?!

Finding Dory. Seriously, I'm a bit too excited about this Finding Nemo sequel. All I keep thinking is "just keep swimming, just keep swimming."
Pitch Perfect 2. Is happening. Hopefully with the same cast. And more fabulous songs.
In music news…
PSY. Has a new video. And it already has over 100 million views. I don't even know any more.
Anna Kendrick is lovely. And she has a music video for the song she performed in Pitch Perfect, "Cups" and just. It's so cute. Enjoy.
In book news…
Beautiful Disaster. And Walking Disaster. I mean. I talked about this before. And I don't get it. I loved these books. I have feelings about them. About the characters. The relationship is so volatile and unhealthy yet so attractive. TRAVIS MADDOX. THE END.
In TV news…
Friday Night Lights. I'm on the last season. And I'm having some emotional withdrawal already. I just love that show so much. And I get the whole Tim Riggins thing now, I really get it. But man, I will be so sad to see that show go.
Modern Family. This show is just the best and probably the funniest shows I watch. I want Cam to be my awesome gay uncle and to flip a fabulous house for me, like tomorrow.
Sons of Anarchy. I'm having Jax withdrawal. Lots of it. And I cannot wait to see what season six brings. I mean I know it's going to be insane and this post just confirms that.
Lastly in WTFness we have Amanda Bynes. Just, Amanda Bynes. And her daily show of crazy. I mean she is just trying so hard to be like Lindsay Lohan. I hope she gets help. In the meantime she is spearheading the crazy train.
Anything I missed?
happy wednesday!
Posted in
Hollywood Tales